It's the middle August, y'all, and that means that it's time to round up some of my favorite things from my very favorite shops. Let's kick things off with LouLou's Fabric Shop!
Take a look at this gorgeous, summery LouLou Bundle available right now. The colors are so crisp and fresh. Did you know that LouLou's curates a brand new bundle every single week? These bundles are perfect for starting a new project, or even for stash building.
BUT, if you're always on the hunt for a deal, trust me when I say that you could get lost in LouLou's sale section!
Halloween will be here before you know it. If you're already looking ahead to cooler weather, this Bad to the Bone fat quarter bundle is on sale for those spooky projects.
At Lady Belle Fabric, there's always some awesomeness going on. This sweet Bungalow fat quarter bundle is in their sale section (among several other great collections).
And this Charlotte bundle by Bari J is brand new in the shop. I love this rich color palette!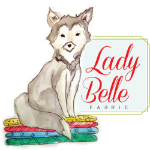 Okay y'all, it's time to head off to show these shops some love. They have stunning fabrics with amazing prices, and their customer service just can't be beat. Happy shopping!