I am thankful for so many things in my life- my church, my family, and my friends are just a few. Though I try to remember my blessings every single day, here in America, this Thursday is a special holiday dedicated to just that- Thanksgiving.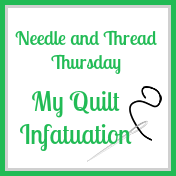 Today, I will be leaving to spend Thanksgiving with my family, so I decided to take the week off from Needle and Thread Thursday. I'll be back next week with all of the highlights from last week's link-up and updates on all of my Christmas gift sewing.
I hope you'll join me next week, and if you're here in America, I hope your Thanksgiving holiday is filled with the blessings of family, friends, food, and fun!