I finished up my Lottie Da quilt yesterday, and managed to get a few pictures between periods of rain. I decided to name this one Blossoms and Butterflies. The butterfly fabric is very subtle in the photo, but in person, it is so pretty. I just didn't get a close up of it in photographing the quilt, but there is a picture of it below! I just love the colors in these fabrics. They're sweet without being too sugary, and they feel really fresh.
Most of the fabrics are Lottie Da, by Heather Bailey, but I did add a few other prints, including the chevron and polkadot. I used all of the scraps in the backing (of course), and am totally in love with both sides of this quilt!
I knew as soon as I saw that cute lilac fabric that I wanted to use it for the binding!
I quilted this with a simple meander, although I did make it a little tighter than I normally do. And although you can't really get a sense of the scale with the pictures, I've been making my labels smaller as well. I figure that with a baby quilt, I should keep the scale of the label consistent with the scale of the quilt. Each strip is 4 inches finished, and the center square is 9 inches, so the finished quilt measures 49 inches square.
I made this quilt for the local shop that sells my quilts-
Bumbletees Fabrics
, and I'm so excited to introduce them as a sponsor!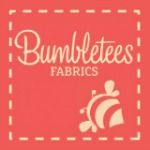 Bumbletees is my local sewing studio that offers sewing classes, gifts made with fabric by local artists, applique clothing, and of course shelves filled with bolts of gorgeous, modern quilting fabric. Lots of the fabrics I use in my quilts are from Bumbletees, since I'm in there at least once a week!
I've loved getting to know the owners, Jan and Andrea. They are super friendly, and they have wonderful customer service, and great prices!
Check out a few photos of the shop, and you'll see why I can't stay away! And if you look closely, you'll see my quilts sprinkled here and there!
See what I mean? Art, frames, pillows, bunting, tea towels, cute applique clothing- and FABRIC! Is it any wonder that I'm in there all the time?
To kick off their sponsorship, Bumbletees Fabrics is offering a giveaway of five of the fat quarters in the Lottie Da line!
To enter the giveaway-
*For a second entry-
2. Visit
Bumbletees Fabrics
and add them to your favorites list on etsy. Be sure to let me know with a comment!
Mr. Random will pick a winner next Saturday, November 9th. If you're a no-reply blogger or a Wordpress user, please be sure to leave your email address so that we can contact you and get your fabric all packaged up and sent to you ASAP!
Happy sewing and good luck!