Well friends, we're quickly approaching the middle of another month, which means it's time to fill you in on the latest news and deals happening at my favorite shops around the web. Let's kick off this month's post with LouLou's Fabric Shop!
There's always something gorgeous at LouLou's!
Right now, since our weather has cooled off a little bit and I'm itching to sew something for autumn, I have my eye on this week's LouLou bundle. These warm, cozy fat quarters are just perfect for the season!
If you're a sale shopper (and who isn't?), there are more than 2,000 bolts marked down at LouLou's right now, not to mention sales on bundles, patterns, and kits! Use the code
doublesale
to get an additional 20% off sale fabrics!
If you've never shopped at Lady Belle Fabric, you're missing out! They are always getting new fabrics and bundles in the shop. Check out this new Sweet and Spookier bundle by Art Gallery Fabrics. So cute!
One of my favorite shop sections at Lady Belle Fabric is the Last Chance section. Here, you can score a great deal on a fabric that may be out of print or difficult to find anywhere else. As the name suggests, when they're gone, they're gone!
This beautiful bundle may be called Summer in the Cotswolds, but the colors scream autumn to me, and you can find it in the Last Chance section!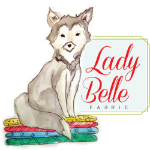 And last, but certainly not least is Fort Worth Fabric Studio. Brand new at Fort Worth Fabric Studio is the Slow Stroll collection by Moda. I just love these pretty colors! They're perfect for a more romantic take on the fall season.
Another awesome thing at Fort Worth Fabric Studio right now is their new Free Spirit mystery fat quarter bundles. These are bundles of 20 fat quarters for less than two dollars per FQ! Some of my very favorite designers are with Free Spirit, so these bundles are sure to contain some real treasures!
By the way, be sure to sign up for Fort Worth Fabric Studio's email list so you'll always be first to know about the latest collections and sales.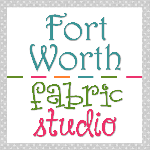 Okay, y'all! I have the very best sponsors around, and I hope you'll head off to each of these shops and show them a little love! Happy shopping!