Happy Friday, all! I'm going to start this post out with a little disclaimer. If you made a New Year's resolution to stop buying fabric, then this is probably not the post for you. The way I see it though, when amazing fabric is available at an amazing price, it is fiscally irresponsible to NOT take advantage of it. That's my story anyway, and I'm sticking to it. Of course, this post also includes giveaways from three amazing shops, so feel free to keep on reading guilt-free for a chance to win some quilty goodies! This post is jam-packed, so let's dive right in!
To kick off this month's post, I have the honor of introducing my newest sponsor,
LouLou's Fabric Shop
! LouLou's is a new discovery for me, and I can tell that I'll be visiting often!
LouLou's has an amazing selection of fabrics from a wide variety of designers, including precuts, bundles, and yardage- all at great prices.
There are a couple of fun things that LouLou's does that help them stand out-
*Daily Deals- sometimes the deal is on a certain product, sometimes it's on a specific collection, and other times it's on an entire category, but it's always a steal! LouLou's promotes the Daily Deal on Facebook, Twitter, and Instagram, as well as the
Daily Deal tab
on the shop site. Today's Daily Deal is on a FQ bundle of Lucky Star!
Giveaway tab
of their shop. This month's goodie is a FQ bundle of Farm Girl.
*Preorder Deals- you can save 10% on preorders by using the code
preorder
, and LouLou's even offers the option to pay in installments for upcoming collections. That is certainly unique and helpful when you know you'll want a giant bundle!
All of the fantastic deals and giveaways that LouLou's offers are widely advertised on social media, so you'll definitely want to follow them through at least one of those outlets so you don't miss out!
LouLou's Fabric Shop is kindly offering a coupon for 15% off for my readers using the code
quiltinfatuation
. This code will be good through next Friday! You definitely need to hop over there and spend some time in this fun shop!
There is lots going on at
Fort Worth Fabric Studio
, including a couple of great sales and an adorable new collection. If you've never shopped at FWFS, you're in for a treat.
Modern Country by Wyndham Fabrics
is $5.55 per yard with no code needed! These are really beautiful low volume prints.
The next sale is what really has me drooling, though. Hello Darling is 35% off from now through January 21st with the code
HELLO35
! I don't know if I can pass up such a deal on these fresh, gorgeous fabrics!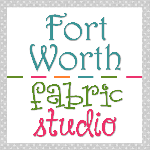 Moda's Lil' Red
. What an adorable collection! The colors and prints almost has a vintage look, which really is a perfect representation of a timeless fairy tale. So sweet! FWFS has the entire collection plus charm packs!
Speaking of charm packs, Fort Worth Fabric Studio is generously giving away a charm pack of the Lil' Red collection, so you can get a look at all of these precious prints!
Up next is
Shabby Fabrics
! Shabby Fabrics has a huge selection of kits, bundles, precuts, and yardage, and their
sale section
is huge!
Just to give you an idea of what I mean- currently there are 87 different collections on sale- 87! I have put together a little collage of a few of my favorite lines on sale, but you can look
HERE
to see all 87. From this page, you can view a text or picture listing of all of the sale collections, and only look at the fabrics that you want to see.
Shabby Fabrics has several new collections right now, including Farm Girl and Lil' Red, but one of my favorites has to be My Lil Lady. The colors are so bright and cheerful, and they make me long for warmer spring weather to get here soon!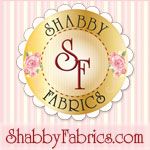 Fat Quarter Shop
is always full of fun news, and they also happen to be sponsoring the second giveaway of the day, so read on!
You can join Fat Quarter Shop on the Crossroads Quilt Along right now! This quilt along benefits the March of Dimes, whose mission is to prevent premature births. As the mom of a preemie born at 31 weeks gestation, and weighing only 3 lbs. 10 oz, this organization is near and dear to my heart!
There are a limited number of quilt kits and pieced backing sets available, using the Strawberry Fields Revisited collection by Fig Tree Quilts, so you can jump right in! If you'd prefer to use your own fabrics, that's fine too! The fabric requirements are available starting today.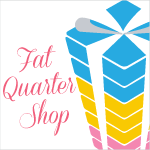 If you're just itching to be an over-achiever, you can get a head start on your holiday projects for next year. The
Holiday Wishes
book is available for preorder now, and will arrive in the Spring. The book contains 12 different Christmas projects for every room in your home!
Fat Quarter Shop is sponsoring our second giveaway, and it is a great one! They are offering a $75 gift certificate to one lucky reader to spend however you wish! Keep reading for details on how to enter!
Last week, I welcomed
Five Monkey Fabrics
as a sponsor, but in case you missed it, I want to include a recap for you!
Five Monkey Fabrics offers beautiful bundles and yardage from a wide variety of designers at fantastic prices!
Their customer service is wonderful, and their shipping is quick and cheap. In fact, for all orders over $50, shipping is free with the code
FREESHIP!
We all love a good sale, don't we? Well, the sale section at Five Monkey Fabrics is filled with beautiful fabrics at rock bottom prices. Some of their fat quarters are only $1.50! This is just a small sampling of some of the beauties that are available in the sale section! You really need to check it out!
There are plenty of happenings at
Lady Belle Fabrics
as well!
Lady Belle is also extending their offer of free shipping for US orders with the code
freeship
for another week, so definitely take advantage of it!
Another steal that you can't pass up is their Aurifil thread sale! There are several thread boxes, as well as some single spools, including my personal favorite, 50 wt white, on sale for
prices that you just can't beat! Don't miss out!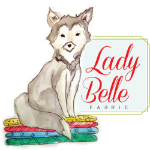 Last, but certainly not least, is
Finer Ribbon
. You all know how much I love my custom labels. I love the professional touch they add to my quilts, and designing them couldn't have been easier!
The labels I ordered are listed
HERE
, but please note a couple of important points.
*My labels are 2.25 inches wide. You have to select the size you want, as the smaller sizes won't really work for quilts.
*My logo and text are printed from side to side on the ribbon, rather than running the length of the label as shown in the example on the website.
Having the label printed from side to side allowed me to utilize the space on the back side of the ribbon for laundry care symbols!
The spool of labels includes lines for cutting, so when I'm finishing a quilt, I can easily cut one off and sew it underneath the binding on the back side.
There are 1000 labels on one spool, so that works out to less than 10 cents per label. Even if you know you could never use all of them, that's still a great deal!
Finer Ribbon is sponsoring the final giveaway of the day, and it is a doozie! They are offering a $100 gift certificate to their shop! You can use it on a spool of labels, or on any of their other products!
So, with all three of the giveaways from my generous sponsors, I know you all want to know how to enter! Well, it really couldn't be easier!
Just leave a comment on this post to let me know what bit of quilty goodness has really caught your eye!
Please be sure you leave an email address so that I can contact you if you are a no-reply blogger! I'll announce the winners next Saturday morning, 1/23. Good luck to all, and happy shopping!
This giveaway has now closed. Thank you SO much to all who entered. If you didn't get a chance to enter, just know that I post fabric deals and giveaways every single month. Be sure to subscribe by email or blog reader so you don't miss out! :)