Happy Monday, friends! Today, the temperature never made it out of the mid-twenties, and let me tell you- that's cold for the south! I took the opportunity to stay inside in the warmth and finish up a new quilt top.
This is made with Joel Dewberry's Flora collection, and the colors in this line are truly delectable. The palette is really unique, and so vivid. I have been wanting to make another quilt in my
Baubles pattern
for awhile, and when I saw these fabrics, I knew they were perfect.
With the Baubles pattern, I had the option of a vertical or horizontal layout, and unlike the pattern cover quilt, I decided to arrange the blocks vertically. I think they look like jewels! I can't wait to finish this one up!
I have another bit of wonderful news to share with you as well. I am delighted to welcome back Southern Fabric as a sponsor! A few years ago, when I first began reading modern quilting blogs and fell in love with modern fabrics, Southern Fabrics was one of the first shops I found. I loved the shop right away, and I still enjoy shopping there today!
Southern Fabric stocks Art Gallery, Free Spirit, Riley Blake, Moda, Cotton and Steel...and the list goes on and on. Like I said- HUGE selection.
They offer super fast $5 flat-rate shipping, with free shipping for orders over $150, and great customer service to boot.
With such a plethora of fabric choices, it's no surprise that you can really get lost in Southern Fabric's clearance section! There really are some amazing deals to be had.
Additionally, Southern Fabric regularly sends out coupon codes for subscribers to their email list. Just so you know that it's worth your while, today's code is in honor of MLK Day, and is for 25% off store wide, and this does include pre-sale and clearance items! The code is
mlk
.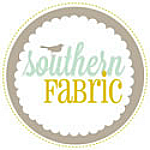 There is just one last thing I want to share with you before you hop off to take advantage of that discount code! Southern Fabric is home to several fabric clubs, and they are starting a brand new one. Each month, a bundle of 12 coordinating prints will be sent out to club members, chosen by a different Sew-lebrity each month! Of course, membership in this club entitles you to a discount on these bundles! The club has a limited number of spots available, so go check out all of the details (including the list of Sew-lebrities)
HERE
!
Wow! So much awesomeness in one place! If you've never shopped with Southern Fabric, you definitely need to check them out!