It is (almost) finished. I am working on my final Amy Butler quilt from my huge stash. I have some fabric set aside for the backing, and there are a few prints that I have put into my general stash that I think will be easier to mix with others. And I'm giving some away as well, so keep reading!
I have been so inspired by the all of the Moroccan tile fabric prints I've been seeing lately. I wanted to make a quilt with the same interlocking tile design without having to sew curves (I'm still a chicken about that). I'm so pleased with the way this came together that I think it's going to be my next pattern!
So, what about the giveaways? Well first off, I have a scrap bag with several different Amy Butler prints. There are at least a dozen different prints in this stack. The pieces are in a variety of sizes, and there is a pretty decent amount of fabric in here! I will be adding the scraps from my quilt backing as well before shipping it out. If you've never worked with Amy Butler fabrics, but want to give the bold, saturated colors a try, this would be a great way to dip your toe in the water without having to plunge into making a huge quilt.
Secondly, I have cut a few fat quarters from some of the prints that I had more yardage of. Do you ever have SO much of a single fabric that you worry that you can never use it up? Well, that has happened with a few of these prints. Usually it happens when I buy something for a quilt backing, then end up changing my design. So, I'm giving away four fat quarters. Two of them are from the Cameo line (aquas), one from Soul Blossoms (lime green), and the last one is from the Alchemy collection (pink). I think the lime green print is actually a quarter yard cut, and not a FQ.
Finally, I am SO excited that I get to offer you a $25 gift certificate to
Southern Fabric
! Southern Fabric is one of my spectacular sponsors, and if you've never shopped there, you are really missing out! They have a wonderful selection of precuts, fat quarter bundles, patterns, notions- you get the idea! They always have a daily deal going on that is tough to pass up!
They are generously offering my readers 20% off of their entire purchase TODAY ONLY! The coupon will expire at midnight, so hop on over there! The coupon code is quiltinfatuation!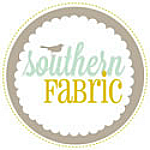 Okay, so the great thing is that to enter ALL three giveaways, all you need to do is leave ONE comment below! Easy peasy!
The Southern Fabric giveaway is open to all, but the two Amy Butler giveaways are open to my readers only, in thanks for being such a wonderful source of inspiration and encouragement!
I will use a random number generator to select the winners next Wednesday afternoon, and announce the winners at next week's NTT party. Good luck to all and happy weekend!
*This giveaway is now closed. Thank you so much to all who entered! :)