Yesterday, I had the pleasure of spending the day with
Janet from Simply Pieced
. As you may know, Janet and I live pretty close to each other and are in the same awesome MQG. We try to get together every once in a while and we always have a blast. Yesterday, we decided to have lunch, go to the antique mall, and of course, finish up with some fabric shopping.
Since I converted my dining room into my (much more useful) sewing studio this summer, I have been on the lookout for an antique ladder to display some of my quilts. I even have the perfect place beside the window (and out of the sun). I searched all summer long and could not find exactly what I was looking for, but yesterday, Janet and I hit the jackpot of quilty treasures. Not only did I find my ladder, I ended up with a couple of other great finds as well.
Edited 9/15- Several of you have sent messages to me about protecting my quilts on the ladder from anything that may leech out of the wood. Thanks so much for your concern, but don't worry, each quilt has a hand towel underneath it! :)
You know, antique shops often have quilts (or unfinished quilt tops), but they are often threadbare, have a weird smell (or stains), or else they are in colors that just don't suit my style. I completely respect the number of hours that have gone into the making of one of these quilts, it's just that I already have quilts coming out of my ears! So, I don't always take the time to rummage through them.
Yesterday though, Janet and I looked at every single quilt in the whole antique mall, and she found this cute unfinished quilt top for only $9.50! What a steal!
Janet has tons going on right now, so she didn't have time for it, so I snatched it up. The fabrics are in good condition, with no stains, rips or smells, and the piecing is well done. It was machine pieced, which actually I like, because that means I will have no qualms about finishing it on the machine. Those hand pieced masterpieces deserve hand quilting and that's not happening (no hand quilting for me!) Anyway, I digress. This little quilt top measures about 32 inches square, so with a small border and a good washing, it will be a cute little boy preemie donation quilt.
I also came across this old sewing drawer, and it was ridiculously cheap as well. I've decided to use it as a pretty place to keep my remote controls, a coaster, and anything else that usually sits on top of my sewing cabinet. Anything to help battle the clutter that seems to gather on top of my workspace.
Yesterday was so much fun, and I could not be happier with all of my treasures. It has been a super busy weekend in more than one way though, because I am also happy that I get to welcome Fort Worth Fabric Studio as my newest blog sponsor!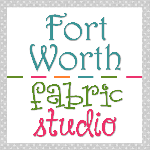 I love Fort Worth Fabric Studio's selection of fabrics, quick shipping with reasonable rates, and excellent customer service. Perhaps my favorite thing about their shop though, are their one-of-a-kind fat quarter bundles! Jodie has such a wonderful eye for color, and mixes fabrics from several different lines to create bundles that are so much fun! In fact, she has created a special bundle specifically for my awesome readers!
Here's the info on the bundle-
SHERBET & LACE FQ Bundle: Featuring the Modern Lace fabrics by Amanda Murphy for Blend Fabrics, along with our favorite selections for a palette that is as pleasing as a bowl of sherbet!

This bundle includes 15 Fat Quarters, as pictured!
Fabrics included (from top to bottom):

1. Modern Lace Reticella Yellow - Blend Fabrics
2. Squared Elements Watermelon - Art Gallery
3. Joyful Blooms Naples Yellow Damask - Studio E
4. Modern Lace Chantilly Ivory - Blend Fabrics
5. My Sunshine Raindrops - Riley Blake
6. Polka Dot Coral - Dear Stella
7. Dream Cream - Timeless Treasures
8. Up Parasol Persimmon Lulu - Free Spirit
9. Modern Lace Passementerie Pink - Blend Fabrics
10. Cotton Shades Peach - Riley Blake
11. Littlest Heartfelt Snow - Art Gallery
12. Modern Lace Torchon Pink - Blend Fabrics
13. Ahoy Matie Small Dots Yellow - Northcott
14. Floral Elements Tangerine - Art Gallery
15. Modern Lace Ribbon Lace Pink - Blend Fabrics
Isn't it scrumptious? So many lovelies from several different lines, all perfectly coordinated for you! AND guess what? Jodie is giving one of these fabulous bundles away to a lucky reader! To enter, just leave a comment below! You can let me know if you've ever found any quilty treasures while antiquing, or you can just let me know what your favorite color combo is these days.
Mr. Random will choose a winner on Wednesday afternoon, and I'll announce the lucky person in my next Needle and Thread Thursday post (Wednesday evening).
If you don't win the bundle, or if you decide that you just can't wait, this bundle is also available in the FWFS shop! Check it out!
Good luck y'all!
Edited 9/17- This giveaway is now closed. Thanks so much to all who entered! :)