Welcome to another NTT, y'all! I feel like today sneaked up on me with the short week, but I'm loving that it's already Wednesday afternoon! almost Friday- woohoo!
Since finishing
Framed
over the weekend, I have started a new quilt (of course) with these lovelies.
I am not ashamed one bit to say that these 18 fabrics are not even half of my Amy Butler
hoard
prized collection. I counted my AB prints the other day...42 different prints from 6 different lines. Umm yeah... maybe I do have a bit of a problem.
The pattern I'm working on is something that just popped in my head a few days ago, and I just couldn't wait another minute to get started. I love projects like those!
I also have some news! I am ecstatic to welcome Shabby Fabrics as my newest sponsor! Shabby Fabrics is a huge shop with tons of fabrics, notions, kits, and BOM Clubs. They have beautiful fat quarter bundles and other precuts, and an extensive Christmas Shoppe! Of course, I can't tell you about their shop without tempting you with some eye candy-
If you choose to create a customer account (free!) you can even rack up loyalty points as a reward for your purchases! If you haven't checked them out, you definitely should! You can always find the button on my left sidebar, but here it is as well!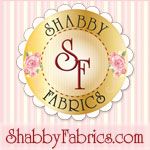 Now it's time to announce the winner from the Labor Day giveaway from Dragonfly Fabrics! Mr. Random helped me out and picked lucky number 20. Yes, that is a photo of the widget on my computer screen. I have *still* not figured out how to copy and paste it properly into my blog post.
Anyway, I digress... Comment number 20 was Mary Ann!
Reply
Delete
I'll be sending your contact information to Amy at Dragonfly Fabrics soon, Mary Ann. So, be on the lookout!
Let's get to last week's party features, shall we?
Katie at Karma Willow Designs
showed her finished Gypsy Wife quilt! This pattern is so fascinating to me, and I kind of regret not doing this QAL.
Carole at Fresh Off the Frame
linked up this stunner, and OH MY. There are no words to express the amazement I have over the whole effect of this quilt!
and finally,
Leland Ave. Studios
shared this mesmerizing quilt- gorgeous!
Just WOW! I can't wait to see what you share this week! I don't always get the time to comment, but I love browsing each and every link week after week! Let's do it!
1. You can link finished projects or WIP's , but just keep it about quilting and sewing!
2. Link to your specific post (not to your home page!) to make it easier for others.
3. Please remember to spread the word and post my button or a text link.
4. Spread the comment love far and wide!
5. Following me is not a requirement to link, but is so very appreciated!