Welcome to another Needle and Thread Thursday! A few things have been going on around here. The first thing (that you've probably already noticed), is that I decided to brighten up my blog design. I had lots of fun doing it and I hope you like it! Of course, that means that your old Needle and Thread Thursday button no longer works, so I'd appreciate it if you'd grab the new one. I hated to have everyone have to change their buttons, but I really hope the design changes are worth the hassle! Here's the new button to grab-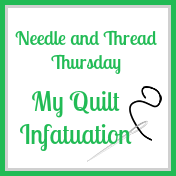 <center><a href="http://www.myquiltinfatuation.blogspot.com/p/needle-and-thread-thursday.html" target="_blank"><img src="http://i1275.photobucket.com/albums/y450/kellydyoung/NTTButton1_zps9633aaf2.png" border="0" alt="My Quilt Infatuation" /> </a><center/>



I'm also excited to share progress on the fourth (and final) memory quilt made from my grandfather's shirts, and I'm going for preppy with this one. It's a chevron quilt- what could be preppier? I got all of my HST's finished, pressed Tuesday night.
And got the quilt top finished this evening! I decided to add a navy stripe to either side, since I needed the quilt to be a little bit wider. Since this quilt is part of a set of four, I wanted them all to be roughly the same size (about 60 x 60).
I'm hoping to get this pressed, basted and finished this weekend!
So, onto a review of last week's NTT. It was a fantastic link-up! Take a look at some of the projects that especially caught my eye-
Stephanie at Quarter Incher
shared this adorable mini quilt-
Your turn! Time to share what you've been up to this week!
Here are the guidelines!
1. You can link finished projects or WIP's , but just keep it about quilting and sewing!
2. Link to your specific post to make it easier for others.
3. Spread the word and post my button or a text link. (the NTT button is on my sidebar or at the
top of this post)
4. Spread the comment love far and wide!
5. Following me is not a requirement to link, but is so very appreciated!