Yes, I have totally aged myself as a child of the 80's and early 90's. But, we are who we are I guess! Welcome to another Needle and Thread Thursday! Well, I wanted a snow day. I begged, and pleaded, and prayed for a snow day- and our weather obliged with an ice storm that has afforded us three! I wish it had fallen in the form of snow and not ice, but beggars can't be choosers you know. Three days at home... yippee!
I'm sad to say that I haven't been spending all of that wonderful time sewing. It's funny that we got our days off on the week that I've sworn off quilting in favor of more responsible behavior. I have been studying for my exam (not nearly as much fun), which is now only three short days away. Of course, I'm happy to have been afforded all of this extra time to prepare, as it has saved me from what I know would have been some late nights.
Although I don't have any projects to show you, I do have some fun news! I'm happy to welcome
Dragonfly Fabrics
as a brand new sponsor! Dragongfly Fabrics has a beautiful selection of modern fabrics at fantastic prices, including yardage and precuts- and they have a great sale section! Some of their newest collections include Art Gallery's Sweet as Honey, Meadow, and Littlest.
(Spring Harvest bundle shown)
A few of the really cool things about Dragonfly Fabrics is that they offer a new sale every two weeks on a different fabric line, as well as bulk pricing on cuts 3 yards and up! To check out their weekly sale page, click
HERE
!
I'm so excited to let you know that Amy at Dragonfly Fabrics is offering a special sale to my readers- 15% off of your order of regular priced yardage! Use the code MQI15. This special coupon is only good through March 8th, so hop over and check it out!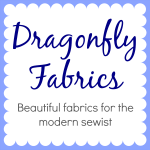 Now, onto the highlights from last week's party! Freshly Handmade linked up this sweet Wee Wander quilt and pillow-
What a fabulous party! I can't wait to see what you link up this week! Let's party!
1. You can link finished projects or WIP's , but just keep it about quilting and sewing!
2. Link to your specific post (not to your home page!) to make it easier for others.
3. Spread the word and post my button or a text link.
4. Spread the comment love far and wide!
5. Following me is not a requirement to link, but is so very appreciated!