I kind of feel like I've been coasting a little with my blog since right before Thanksgiving. I just haven't had the time to read and comment on as many blogs as I normally do, and my sewing has been mostly limited to small projects to finish up Christmas gifts.
Anyway, we're in the holiday home stretch, and I'm pretty sure I just cannot cram one more thing into these next couple of weeks. Aside from all of the holiday hoopla, tomorrow also happens my 15th wedding anniversary! The weeks will be filled with wonderful things, but a full plate, nonetheless.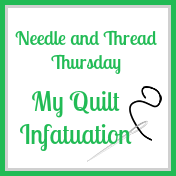 So, all this is to say that Needle and Thread Thursday will be taking a two week break. Don't worry though! I'll be back on Thursday, January 2nd. If you're like me, you're just waiting for your days off to steal a few extra minutes of sewing time, and I hope you'll share it then!
I wish you all the happiest Christmas ever, and a wonderful New Year. I hope you are able to share it with loved ones. And maybe...just maybe if you've been very good this year, I hope Santa brings you all of your fabric wishes! Catch you in 2014!