Recently, I got a sewing machine with a special history. It's an Elna 6003 Quilter's Dream, and was purchased brand new by my great aunt when they were first introduced. The machine made only a few quilts before my aunt passed away, and the machine has been sitting in the closet of one of her daughters ever since. I rarely see that side of my family, so I don't think they realized that I was such an avid quilter until I started posting my finished quilts with blog links to facebook. To make a long story short, the machine was offered to me, and as a "thank you" I am making a quilt.
My grandmother ended up with almost all of her sister's stash when she passed away, and she asked if I would like to choose from her fabrics for the quilt. I only added a few fabrics from my own stash to balance the colors a little bit. Although the fabrics are more traditional than I would ordinarily choose, I like the color palette a lot. I have plenty of fabric left to make a great, scrappy pieced backing, and I'm planning to get this one all finished up this week so I can take it when we visit family for Christmas.
I absolutely love my Bernina, but after being without it for two weeks in October for regular service, I realized that a backup machine is essential. This machine has all of the accessories and tons of feet, and still works beautifully, even after sitting in storage for several years, and I'm sure she'll be just perfect after a tune up!
Even though I've been reducing my grandmother's stash, I've actually been adding to my own (bad girl!). I could not resist these gorgeous Amy Butler prints. These are a mix from the Cameo, Alchemy, Lark, and Love lines, and I'm cooking up a plan to match their fabulousness.
If you want to add to your own stash or get a gift for your favorite fabric hoarder, I'm totally willing to be your enabler! There are some great deals going on that you won't want to miss.
Southern Fabric
has daily deals going on. Each day has a new way for you to save on your favorite fabrics. Check it out!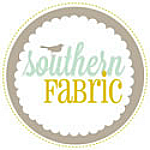 Here's the run down of what's going on-
December 15 - Free U.S. Shipping Code: freeship
December 16 - 25% off all Full Priced Yardage Code: 25yardage
December 17 - 10% off Store wide - Code : 10off
December 18 - 25% off all Full Priced Layer Cakes Code: 25cake