Hey there, friends! I'm back from vacation and it was absolutely fantastic. I'm so happy to get back into the swing of things at home though, and that includes highlighting the latest happenings at my favorite shops around the web. Summer is when all of the fabric companies debut their latest holiday collections, so I can't think of a better way to get back into the groove than highlighting some of my favorites. There is also a giveaway this month, so keep reading!
LouLou's Fabric Shop has tons of new Christmas collections and patterns to really show them off. These Christmas Morning fabrics by Lella Boutique have more muted tones and fresh prints that showcase lots of Christmas greenery.
LouLou's even has several patterns that showcase this line, in case you're stumped on how to use them.
I'm also in LOVE this Santa in the Pines kit. It's so much fun, and such a unique use of basic quilting shapes.
Up next is Fort Worth Fabric Studio, where there are tons of new Christmas fabrics as well. This Merry and Bright collection by Me and My Sister Designs is filled with holiday cheer, and perfect if you're looking for brighter shades of classic Christmas colors.
The prints are a little more whimsical in this line, and definitely sure to put you in a cheery mood.
This Ribbon Candy quilt kit is the perfect way to make these fun, energetic prints really shine.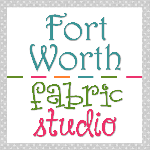 And finally, if you're looking for a Christmas collection with a non-traditional palette, look no further than Lady Belle Fabric. Warm ginger, rosy pink, and earthy teal are the perfect accompaniment for the rich, Christmassy red fabrics.
Though this palette is very unexpected, it feels very warm and comforting to me.
Take a look at the sweet quilt kit that uses this collection. It looks like a neighborhood full of sweet candy and gingerbread houses!
Lady Belle is generously offering a $25 gift certificate to one lucky winner this month, and you can spend it on whatever you like. I promise, you won't have any trouble filling your shopping cart!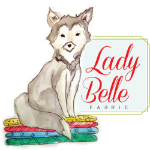 Okay, y'all. Of course, though I've only highlighted a snippet from each of these shops, they each have lots to see. I hope you'll take a few minutes to browse these shops and show them some love, but before you go, take a minute to enter this month's giveaway!
To enter, just leave
ONE comment on this post.
Don't forget to leave an email address if you're a no-reply blogger, and remember, only one entry per person please! Unfortunately, replies to your own comment counts as an entry (the system numbers those, too), so remember to put your email address in your comment if necessary.
Additional replies/comments/entries are always deleted. I'll announce the winners at next week's NTT (July 21st).
This giveaway has ended. Thanks to all who entered!
Good luck and happy shopping, y'all! Now, I'm headed off to watch another Christmas in July movie on Hallmark. :)