Happy April, friends! Spring is in full swing around here, and it is so refreshing to see all of the bright green new leaves and vibrant pink Dogwood blooms opening up right now. These cheery colors are everywhere, and it really makes me want to grab a happy bundle of fabrics and make something fun. Even if spring hasn't sprung yet in your area, you can still get ready to welcome it with some fresh fabrics and amazing deals. This post also contains two giveaways, so let's get down to business!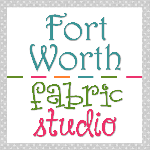 The Purple Pushover fabrics are so much fun, and the Jammin bundle is perfect if you're looking to pump up your purple stash!
Right now at Fort Worth Fabric Studio, you can also get these luscious Butterfly Jewel 2.5" Strippies Packs on sale for $19.95.
Fort Worth Fabric Studio is also sponsoring the first giveaway of the day! One lucky US winner will receive a pack of these vibrant strips.
At Lady Belle Fabric, they're still doing a shop clean-out, so their Last Chance section is still going strong. I love popping in there every now and then to see goodies that I may have missed before that I can't find anywhere else, like this Aria bundle by Kate Spain.
Since lots of the fabrics in this section are out of print, once these deals are gone, they're gone forever, so don't miss out!
I'm also crushing on this Behind the Scenes bundle by Jen Kingwell (also in the Last Chance section). It's such a beautiful selection of neutrals.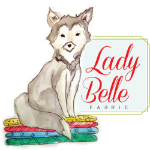 At Shabby Fabrics, they're celebrating the season with lots of fun decor. They have tons of monthly clubs with wall hangings, table runners, door hangers, mug rugs...you name it!
Each monthly design is super cute, and perfect for adding just a little seasonal touch to your home. My favorite of their clubs though, is the Year in Words pillow club.
If you're new to appliqué, Shabby Fabrics has you covered. All of the appliqué shapes come pre-fused and laser cut for precision. All you have to do is iron them down and stitch them into place. Easy peasy!
If you're not into seasonal decor or appliqué, that's okay! Shabby Fabrics still has lots for you. They have a wide selection of yardage, kits, and notions for every taste.
I love this fun bundle of Pom Poms and Stripes prints from the Tula Pink All Stars collection.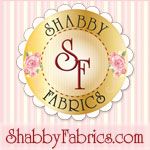 And finally, LouLou's Fabric Shop has plenty of amazing things going on. I always love to check out their weekly LouLou Bundle for some project inspiration and they never disappoint.
Did you know that LouLou's Fabric Shop also has a gift section? It's the perfect place to find quilting or sewing related gifts for your quilty BFF. Check out these cool Rustic Ceramic Button coasters. They're so unique! Everything in this section is priced to be wallet-friendly, which means you can surprise your quilty friends with little happys anytime!
Next week, LouLou's is launching a BIG spring sale, but I have an early bird code just for you! Use the code happyspring for 20% off your entire order! This code is good through this Friday!
LouLou's is also sponsoring the final giveaway of the day. One lucky winner will receive a $25 gift certificate to spend in the shop on anything you choose!
To enter both giveaways, leave a single comment on this post, and then head over to these amazing shops to take advantage of the amazing things happening right now.
If you are not in the US, please let me know!
Remember to leave an email address if you're a no-reply blogger, and only one entry per person please! Unfortunately, replies to your own comment counts as an entry (the system numbers those, too), so remember to put your email address in your comment if necessary.
Additional replies/comments/entries are always deleted. I'll announce the winners at NEXT week's NTT (April 24th). Happy shopping and good luck! :)
This giveaway has now ended. Thanks to all who entered. I'll announce the winners at today's NTT!