Happy February, friends! It's Valentine's Day week, which means that it's the perfect time to show yourself some fabric love! I've rounded up the best sales and happenings from my favorite shops on the web, and even a couple of giveaways for you today.
Let's kick off this month's post with the first giveaway, shall we? At Lady Belle Fabric, there is lots of awesomeness going on.
Right now, you can get 20% off of your entire order with the code
winter20
. Plus, Lady Belle is including
FREE batting
with all longarm services. That's hard to pass up!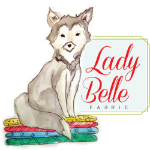 Lady Belle Fabrics is also sponsoring the first giveaway today. One lucky winner will receive this sweet peachy pink bundle containing 8 perfectly curated fat quarters!
Shabby Fabrics is a great place to shop if you're looking to add just a touch of seasonal decor to your home. Their Year of Words wall hangings and pillows are fantastic. This Valentine wall hanging is available as a full kit, or just a pattern.
Personally, I find it easier to decorate with pillows, and this one is so cute!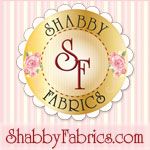 Shabby Fabrics has a wall hanging and pillow design for each month in the year, and best of all, they ensure that these projects are quick and easy for you! All of the appliqué pieces are pre-fused and laser cut, which means that all you have to do is peel off the paper backing, iron in place, and stitch them down. So simple!
LouLou's Fabric Shop has plenty of bundles that will put a smile on your face for Valentine's Day, but I think my favorite is this stack of red and white beauties. I personally love that the colors give a nod to the season, but since they aren't novelties, the prints can easily be mixed with other fabrics.
Since this is a sale post, I would be remiss if I didn't also let you know that LouLou's sale section is massive. Yardage, bundles, precuts, kits, patterns- TONS of it on sale with amazing prices. This Wild Flowers kit has me looking forward to spring!
Finally, over at Fort Worth Fabric Studio, they are definitely looking ahead to spring with two brand new bundles that are so fresh. These Party in Paradise and Everyday Moments bundles are so pretty, and I love the vibrant colors!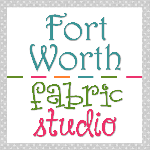 Okay then! Before you head off to these amazing shops to see all of the goodies they have to offer, be sure to leave a single comment to enter both giveaways.
If you are not in the US, please let me know!
Remember to leave an email address if you're a no-reply blogger, and only one entry per person please! Unfortunately, replies to your own comment counts as an entry (the system numbers those, too), so remember to put your email address in your comment if necessary.
Additional replies/comments/entries are always deleted. I'll announce the winners at NEXT week's NTT (February 2oth). Happy shopping and good luck! :)
This giveaway has now ended. Thanks so much to all who entered. I'll announce the winners at this afternoon's NTT.