Well, it's a brand new month and a brand new year, and I'm super excited to fill you in on the latest happenings at some of my very favorite shops! This post also includes four different giveaways, so read on to find out how to enter!
I always love kicking off a post with a giveaway, and this one from the Fat Quarter Shop is super awesome- a fat quarter bundle of Kate Spain's new line, Early Bird! This collection is so new, it's not even shipping just yet, so the lucky winner will be one of the very first to receive it!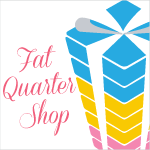 I also want to call your attention to a couple of other fun things happening at FQS right now. At the beginning of every month, I make a point to check out their Basic of the Month, which is at a special 20% off price for the entire month. Even if you've vowed to use up your stash this year, basics are always a necessity for helping every project come together. This month's basic is Moda's Concrete Basics line, a great tonal basic that has a similar feel to the Grunge Basics.
If you're looking to expand your horizons into a neat new shape, Fat Quarter Shop also has a new set of orange peel templates, with an array of fun, new patterns to put them to good use.
Over at Shabby Fabrics, they're beginning a brand new year of their fun pillow club, A Year in Words. For me, decorating my entire house for each new season just doesn't happen, but I enjoy a little touch here and there. These fun pillows are perfect! The shapes are laser cut and pre-fused, so all you have to do is iron in place, and sew around to create a perfect appliqué.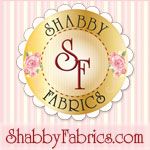 Over at LouLou's Fabric Shop, so much awesomeness is going on! They are continuing their HUGE Year-End sale, with literally hundreds of fabrics marked down to $6.00/yard, and great prices on some precuts as well, with no coupon necessary.
If a special, full-priced collection has really struck your fancy, LouLou's has generously offered my readers 15% off all full priced fabrics with the code
quilt
. I have my eye on the new Acreage collection!
LouLou's is also sponsoring the second giveaway of the day- a $25 gift certificate to spend however you choose!
Fort Worth Fabric Studio is another shop that offers amazing fabrics at fantastic prices. Right now, the Dear Stella collection is only $5.55 per yard through January 21st!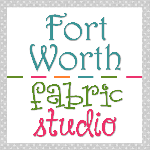 One of my very favorite features of shopping at FWFS is checking out their expertly curated bundles. Each week, they mix fabrics from different collections for a unique, perfectly coordinated bundle. The color combinations, as well as the prices are hard to pass up! Fort Worth Fabric Studio is generously providing one of their Love Is In the Air bundles as a giveaway this month!
*Due to shipping costs, this giveaway is only open to US residents.
The start of a new year is the time that many quilters not only make some life resolutions, but some quilty ones as well. If you've promised yourself that you'll do a better job of labeling your quilts, then let Finer Ribbon help you! I absolutely LOVE my labels, and they are quick and easy to add to all of my projects.
I have used my full color labels for well over a year, and the quality is top-notch. At just over $100 (US) per spool, they may seem pricey, but each spool contains 1000 labels, which works out to about ten cents per label. Ordering a spool means that you won't even have to think about labels again for a LONG time!
My labels are available HERE.
If you want to order, there are a

couple of

important points to consider-
*My labels are 2 1/4 inches wide. You'll have to choose your width in the drop-down menu.
*My labels are printed from side to side, rather than running the length of the ribbon. I think it works perfectly for quilts, but I have also sewn them to mug rugs, pillows, etc., and I still like this size.
Finer Ribbon will work with you to design your labels, so you don't need to be afraid of the process. They will send you a full-scale, printable proof so that you can print, cut, fold and make absolutely sure that your labels are exactly what you want. Best of all, they are super patient during the process. I had two or three different proofs before I approved my labels, and the Finer Ribbon team was so friendly from beginning to end!
And finally, there are always great things going on at Lady Belle Fabrics. Did you know that their sale bundles, like this Gooseberry bundle, are always 30% off? You can check out all of these awesome sale bundles
HERE
.
Right now, in addition to 30% off of tons of great bundles, Lady Belle is offering free shipping with the code
freeship
.
Lady Belle is also sponsoring the final giveaway of the day! They are offering a $25 gift certificate to spend however you choose. If you're looking for a brand new, sweet collection to help you spend it, Lady Belle has Heather Ross' new collection, Sleeping Porch!
Wow, so many great happenings at so many wonderful shops! Even though I've promised myself to bust my stash this year, I've always got a little room in my cabinet for some fabric love found on sale!
Time to enter these four fantastic giveaways. Just leave a single comment on this post to let me know if you've made any quilty resolutions this year, or you can just tell me what you have on your wish list! Since one of the giveaways is only open to US residents, in your comment, please let me know if you live outside of the US (don't worry, though- you're still eligible for the other three!). That will help me out when I draw the winners!
Remember to leave an email address if you're a no-reply blogger, and only one entry per person please! Unfortunately, replies to your own comment counts as an entry (the system numbers those, too), so remember to put your email address in your comment. Additional replies/comments/entries are always deleted. I'll announce the winners at NEXT week's NTT (January 25th).
This giveaway is now closed. Thanks so much to all who entered! I'll announce the winners at this evening's NTT post! :)