In August, I had the pleasure of presenting a trunk show to the Tennessee Valley Quilters Association for their annual Assembly Day. This is a group of several guilds in Tennessee and northern Alabama, totaling around 500 members.
Kaye England
, a prolific traditional quilter and author, was the other speaker at the event, and she and I had some time to chat (she is a hoot!). When she and I discussed sewing machines, and she found out how much I love my BERNINA 550 QE, she suggested that I check into the Ambassador program.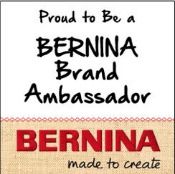 I am so proud to announce that I am a new BERNINA Ambassador, which means first and foremost, that I openly and wholeheartedly support the BERNINA brand. It also means that I'll be contributing projects to
We All Sew
, BERNINA USA's blog, among other activities.
I have been vocal about how much I love my sewing machine, and the BERNINA brand in general since purchasing my BERNINA 550QE over three years ago, but I am excited to now have a formal partnership with such a great company. So go ahead- ask me why I love my sewing machine!